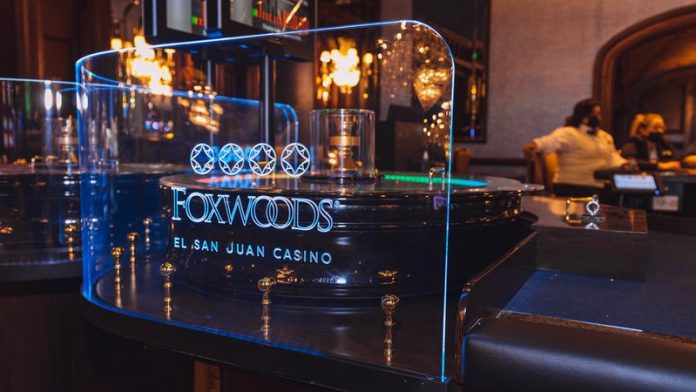 The Mashantucket Pequot Tribal Nation and LionGrove have officially welcomed players to Puerto Rico's Foxwoods El San Juan Casino, located at the Fairmont El San Juan Hotel, via a soft launch held last week.
The duo first details plans to transform the venue in January of this year, with a $12.5m expenditure coming in addition to renovations of the hotel, which has resulted in a total of $137.5m in resort enhancements.
"Today is a landmark milestone for the Mashantucket Pequot Tribal Nation as we expand the Foxwoods Resort Casino brand – for the first time ever – to the Caribbean," said Rodney Butler, Mashantucket Pequot Tribal Nation chair.
"We're honoured to bring real economic value and tourism to the region – including an estimated economic impact of $22m – with the launch of Foxwoods El San Juan Casino and remain a committed partner as we help build a bright future for the island. We thank our partners at LionGrove and Fairmont El San Juan for making this happen."
Puerto Rico Governor Pedro Pierlusi, Mayor of Carolina José Carlos Aponte Dalmau, Tribal Council members, Foxwoods' President and CEO, local dignitaries and members of the community all gathered for a ribbon cutting on November 17, 2021. A grand opening celebration is planned for January 2022
"As planned, we are thrilled to finally reopen our doors after five years and deliver exciting new gaming and entertainment experiences to the wonderful people of Puerto Rico and visitors from afar," commented Stuart Levene, managing director/GM of Foxwoods El San Juan Casino.
"This property has been emblematic for Puerto Rico and thus our intent was to maintain the rich history of the venue, and we truly believe the casino's new identity beautifully pays homage to the casino's legendary history.
"Today marks the beginning of an iconic new chapter for Puerto Rico's gaming innovation, and we're excited for all to experience the revitalised Foxwoods El San Juan Casino firsthand."
These investments are anticipated to generate an estimated economic impact of $22m back into the island, creating a projected 360 new jobs in the region, with over 150 of those being at the casino venue.
"This past January, we made the historic announcement that this iconic casino would reopen its doors. After a lot of work, today I am pleased to be present to formalize the opening of Foxwoods El San Juan Casino," added Governor Pierluisi.
"With Foxwoods El San Juan Casino's capital investment of $12.5m, the casino will positively impact our economy and create over 150 direct jobs. I remain committed to the economic development of our Island, through efforts like Foxwoods El San Juan Casino, to boost tourism growth and investment in Puerto Rico."