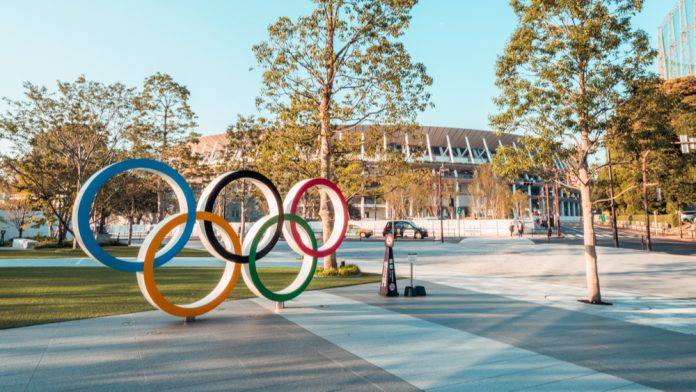 Camelot brand's connection to the Tokyo 2020 Olympics and Paralympic Games was cited for the 'highest-ever' first-half National Lottery ticket sales for the 2021/22 financial year.
Within its H1 report, the National Lottery operator revealed ticket sales of £3.96bn for the period of April 1 to September 24, 2021, a 2.7 per cent increase on the same period last year of £107.3m. 
Driven mainly by a "strong draw-based games performance," its lotto product is now in its third year of growth while retail operations also experienced a "steady" recovery. 
"I'm delighted to announce another record sales performance for The National Lottery," noted Camelot chair, Sir Hugh Robertson.
"Crucially, this meant that we were able to deliver growth in returns to good causes, prizes paid to players, and lottery duty to the Treasury. 
"Our profit was once again aligned with returns to good causes at the half-year stage and will be around one per cent of sales for the full year in accordance with our licence.
"An incredible £45bn has now been raised for National Lottery good causes – 65 per cent more than the most optimistic Treasury forecasts at the time of launch."
Furthermore, Camelot detailed that £2.27bn was awarded to players in prize money, an increase of £30.6m, with 95 per cent of all sales revenue returned to 'winners and society', as one per cent of sales was retained as profit and four per cent was spent on operating costs.
In addition, the group recorded a 6.5 per cent increase in money generated for good causes from ticket sales, offsetting a 59.1 year-on-year decrease in unclaimed prizes contributions, the proceeds of which are handed over to good causes.
In total, £884.m was generated for charitable contributions during the first six months of the financial year, a 2.4 per cent increase on the 2019/20 figure of £864.7m, with total returns to good causes since the lottery's foundation in 1994 now standing at £45bn.
Nigel Railton, Camelot CEO, remarked: "With National Lottery sales up across the board and very high levels of public participation, we've once again proved that our strategy of offering great consumer choice in a safe and convenient way continues to deliver vital contributions to good causes across the UK. 
"The National Lottery's continued strong performance is testament to the resilient, responsive business model that we have put in place since our 2017 strategic review.
"Lotto is a great barometer for the overall health of The National Lottery so I'm really proud that, as a result of the series of lotto enhancements we've made, we continue to be one of the only major operators in the world to be growing sales of our flagship game. 
"That – paired with a steady retail recovery and our summer-long campaign celebrating the contribution of National Lottery players in helping propel our Olympians and Paralympians to success – all added up to a record first-half performance."
Moreover, the majority of the first-half National Lottery sales increase was driven by growth in sales of draw-based games to £2.22bn – a 3.6 per cent of £78.7m . This saw year-on-year growth across all draw games.
Elsewhere, sales of National Lottery scratchcards and online instant win games grew over the period by £28.6m, a 1.6 per cent growth to £1,.73bn.
Furthermore, a strong retail recovery as COVID-19 restrictions were lifted meant that in-store scratchcard sales were up 6.7 per cent year-on-year while sales of online instant win games were down 8.8 per cent – although scratchcard sales still remain down on pre-pandemic levels.
Camelot's retail recovery saw the operator increase total in-store sales to £2.33bn, up 4.5 per cent. As a result, the first-half retailer commission increased to £133m, a 5.1 per cent increase of £6.5m, the equivalent of around £3,000 per store. 
Alternatively, its digital presence recorded online sales of £1.62bn, a slight increase of 0.2 per cent – £4.6m – compared to last year's 39.1 per cent uplift.
As part of this, mobile sales grew by £21.3m, up 1.8 per cent, to an all-time high of £1,150m. This growth was also accompanied by over 795,000 new online registrations.