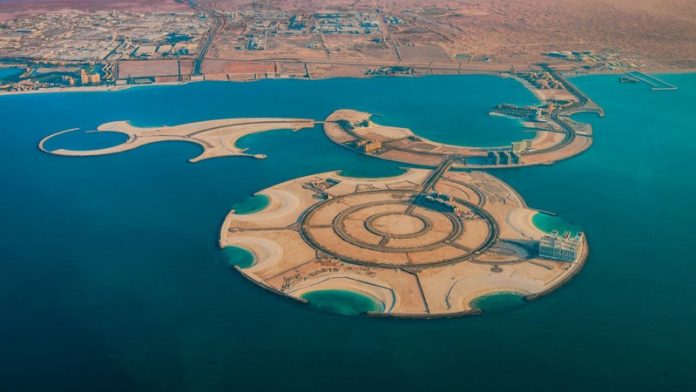 Wynn Resorts anticipates "a very high return on invested capital" from its multibillion dollar integrated resort on the man-made Al Marjan Island in Ras Al Khaimah, United Arab Emirates.
Representing "the first transaction where Wynn Resorts is being paid for its know-how and service excellence via a management agreement," once complete the operator says that 95 per cent of the world's population will be within an eight-hour flight of a Wynn resource property.
"The UAE is already a substantial destination for not only the region but for Europe, for Brits, for Germans, for really folks from all over the place. So this is a significant customer acquisition opportunity and a really material extension of our brand," stated Craig Billings, CEO of Wynn Resorts.
Before aiming to provide some clarity on topics evidenced in analyst notes and media reports regarding the project: "In any new jurisdiction, there are three things that need to happen to have an integrated resort with gaming," he explained. 
"The first is enabling legislation is gaming legal? The second is regulation, how will gaming be conducted? The third is licensure, who can operate a gaming establishment?
"With respect to this project, no further enabling legislation is required. We're not looking at a multiyear process for legalisation like we have seen in some other markets.
"Regulations are well advanced, having been modeled on those of Singapore and the United States. The tax rate and license structure are very reasonable.
"And finally, with the regulatory framework taking shape and the regulator in place, we will be licensed to conduct gaming in Ras al-Khaimah.
"In other words, where we go with these projects. We're commencing master planning now and will begin mobilising architecture and design in due course."
The comments came as the group, which earlier detailed a divestment of all of the land and real estate assets of Encore Boston Harbor to Realty Income for $1.7bn, dissects its performance through the fourth quarter and year ended December 31, 2021.
Operating revenue through Q4 soared 53.5 per cent to $1.05bn (2020: $686m), due to increases in the group's Las Vegas operations to $493.9m (2020: $172.5m) and Encore's $204m (2020: $130.9m).
This offset decreases felt in the Macau market by the group due to the impacts of the evolving COVID pandemic, with Wynn Palace's revenue dropping to $194m (2020: $221.5m) and Wynn Macau closing at $131.7m (2020: $181.9m). 
Wynn Interactive, which the company says has received an "encouraging" response by customers in the newly launched regions of New York and Louisiana, generated approximately $785m in total turnover, a 20 per cent sequential increase from Q3.
Net loss during the quarter narrowed to $177.2m (2020: $269.5m), with adjusted EBITDA climbing 113.6 per cent to $149.1m (2020: $69.8m).
"I'm proud of our teams at both Wynn Las Vegas and Encore Boston Harbor for delivering record adjusted property EBITDA at both properties during the fourth quarter," added Billings.
"Our relentless focus on five-star hospitality and world class experiences allowed us to further extend our leadership positions in Las Vegas and Massachusetts in 2021. In Macau, we remain confident that the market will benefit from the return of visitation over the coming quarters."
For the year, revenue increased 79.6 per cent, to $3.76bn (2020: $2.1bn), with upticks of $377.6m, $151.4m, $755.7m, and $329.9m, recorded at Wynn Palace, Wynn Macau, Las Vegas operations, and Encore Boston Harbor, respectively.
Net loss for the year finished up at $755.8m versus the $2.07bn recorded through 2020, with adjusted EBITDA closing at $569.4m compared to a loss of $324.3m from one year earlier.