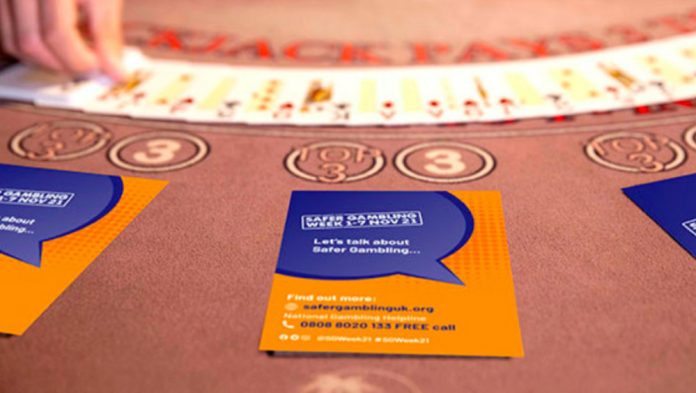 The Betting and Gaming Council, Bacta, Lotteries Council and Bingo Association have outlined a joint commitment to a 'blitz of safer gambling messaging' at this year's Safer Gambling Week.
Taking place between 17-23 October, Safer Gambling Week 2022 will see the four UK gaming association's commit to 'build on last year's success'.
Pointing to the 2021 Safer Gambling Week, the four organisations noted that promotion and awareness of responsible gaming tools such as deposit limits had increased by 17% in comparison to the usual four-week average.
"Safer Gambling Week is now an established annual event," said Michael Dugher, Chief Executive of the BGC. "We know that rates of problem gambling are low and are now falling, which is great news, but Safer Gambling Week is further evidence of the regulated industry's determination to keep raising standards.
"BGC members demonstrate their commitment to safer gambling every day through initiatives such as the whistle to whistle ban on TV betting commercials during live sport and strict ID and age verification checks."
The 'blitz of safer gambling messages' described by the organisations will cover online and land-based gaming verticals, in order to drive a national conversation on responsible betting.
Highlighting additional achievements from 2021, the association's observed that the number of social media impressions during the week rose by 16% to reach 24.5 million, whilst sessions on safer gambling websites increased by 79% on 2020.
Lastly, the industry associations also observed that recent UK Gambling Commission data demonstrates that the problem gambling rate in March 2022 had fallen to 0.2%, down from 0.3% in February and 0.4% the previous year. 
Miles Baron, Chief Executive of the Bingo Association, commented: "Safer Gambling Week is an important part of the bingo industry's commitment to social responsibility and provides a useful focal point for highlighting activity and support that is available throughout the year.
"As venue-based businesses, the sector recognises the important opportunity we have to promote safer gambling messages and engage directly with customers."
Safer gambling has taken on increased importance in the UK, as the government's judgement on the 2005 Gambling Act review in the form of a White Paper edges closer.
The announcement follows on from the BGC, Bacta and Bingo Association's joint confirmation of a new Safer Game Design Code for gaming machines earlier this month, overhauling features in the land-based products.
Notably, the new initiative will see machines no longer celebrate wins of less than the stake with visual or auditory displays.
"Safer Gambling Week once again allows the industry to showcase its year-long commitment to safer gambling," added John White, Chief Executive of Bacta.
"It also brings customer focus to the tools that are available to them if they in any way feel their gambling is becoming problematic. Those tools continue to grow as we learn more about safer gambling and form part of our ambition to cement social responsibility at the heart of our offer to the consumer."