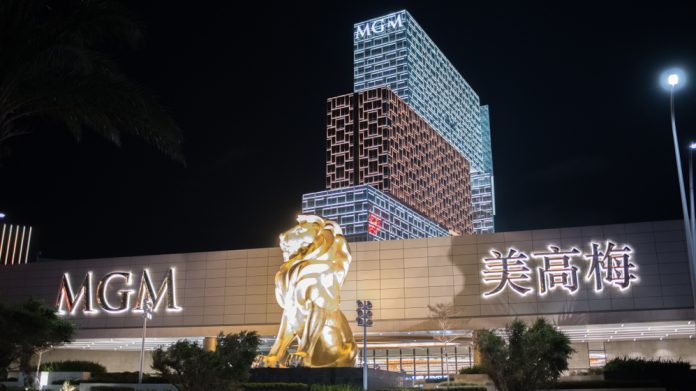 MGM Resorts has remained bullish on the digital possibilities that lie ahead for the group on a global scale, as retail optimism in Las Vegas is countered by Macau-based struggles through the first quarter.
In a far reaching earnings call, Bill Hornbuckle, Chief Executive Officer and President of MGM, covered an "exceptionally hot" Las Vegas market, LeoVegas and wider digital prospects and the progression of ongoing developments, as well as hinting that the company could be dipping its toes back into the M&A well in the future.
Regarding integrated resort development opportunities that lie ahead, Hornbuckle updated that MGM is "developing a compelling proposal" in its pursuit of one of three licences for a downstate New York casino.
"If you factor in the licensing fee and the initial expansion, we're looking at about a $2bn to $2.2bn investment," he said, ahead of the expected green-light for successful applicants being issued next year.
On an international basis, a development plan has been developed, alongside regional partner Orix, and submitted to the Japanese government regarding a long mooted IR in the city of Osaka.
"We aim to support the Macau government in achieving its diversification goals"
Alongside this acknowledgement that "we are optimistic that we [will] receive certification in the near future," Hornbuckle also noted that the group has also submitted an application for a new 10-year gaming concession in Macau.
"…we remain committed to supporting Macau's continued development as a world class tourism and leisure destination," Hornbuckle stated.
"We aim to support the Macau government in achieving its diversification goals, and will continue to invest in the innovative projects and programs that help the region flourish.
"Macau government is in the process of reviewing each of the concessioners proposals, and we expect good decisions to be made by year end."
These comments come amid the reporting of what the MGM CEO labelled as "another phenomenal quarter of financial results," the successes of which were driven by a Las Vegas Strip that set "a new record for revenues and adjusted property EBITDA".
Group-wide revenue through July to September jumped 26 per cent to $3.4m (2021: $2.7bn), helped by the additions of The Cosmopolitan, a full quarter of operations at Aria and an increase in business volume and travel activity, with EBITDA also increasing to $950m (2021: $765m).
However, net loss attributable to MGM Resorts was $577m from an income of $1.4bn one year earlier, with operating loss at $1bn (2021: +$1.9bn) which is aligned to a $1.2bn amortisation charge related to subconcession in Macau.
Jonathan Halkyard, CFO of MGM, clarified: "When MGM went to a majority position in MGM China in 2011, we recorded through the purchase accounting an intangible related to the concession.
"We've been amortising that intangible to between 2031 and 2038. When the law was released back in June, we, together with our outside auditing firm, Deloitte, we came to the conclusion that it's a new concession that we'll be beginning post December.
"Our investment in BetMGM and LeoVegas will allow us to continue to drive our omnichannel strategy"
"So the existing concession on which the intangible was based, we needed to amortise that towards the end of its life or by the end of its life, which is this year. So we took a relatively small amortisation charge in the second quarter and then we're taking the remainder in the third and the fourth quarter. And so that's what that is."
On the Las Vegas front, revenue and AEBITDA increased 67 per cent 58 per cent to $2.3bn (2021: $1.4bn) and $846m (2021: $535m), with business reported as "exceptionally strong" and Hornbuckle deeming the market as "remaining exceptionally hot".
"2022 is shaping up to be a record year for many resorts. And we believe that fundamental change in people's perception of travel, and the value that brings to their lives in Las Vegas and MGM Resorts is benefiting this emerging theme," he said.
Regional operations saw revenue up five percentage points to $974m (2021: $925m) as AEBITDA dipped eight per cent to $322m (2021: $348m), however, Macau-based challenges, that have been evidence by many, were similarly encountered by MGM.
With visitor arrivals down, a 12-day suspension of business activities in July and tightened travel and border controls during the quarter are reported as having "severely hampered" the region.
Furthermore, the company also saw MGM Cotai shuttered for a three-day period to one positive COVID-19 case.
Subsequently, revenue has plummeted 70 per cent to $87m (2021: $289m), with AEBITDA swinging to a loss of $70m from a profit of $7m one year earlier.
On the digital front, Hornbuckle stresses further delight at the purchase of LeoVegas, which signals the "the first step of an aggressive expansion in international and online gaming".
"…we'll continue to look for opportunities to drive organic growth in our core businesses"
He continued: "Our investment in BetMGM and LeoVegas will allow us to continue to drive our omnichannel strategy, a key competitive advantage that over time allows us to generate incremental earnings between a brick-and-mortar and our online channels."
After BetMGM added Kansas as a 24th market, the Entain joint venture is looking to take this number to 27 in the near future through Massachusetts, Ohio and Maryland as the firm looks to heighten market share further still.
"MGM remains the clear leader in igaming with a 29 per cent market share. And BetMGM commands 22 per cent share in active markets from combining U.S. sports, betting and igaming," it was noted to this end.
Looking forward, Hornbuckle asserted that MGM has plenty of reasons to be optimistic, but acknowledged that "we're not blind to the overall macroeconomic conditions".
He closed: "We remain keenly aware of the impact of inflation and the concerns of a potential recession. We continue to stay alert and are actively monitoring our business and indications of a slowdown.
"Our operations teams have become incredibly nimble over the last few years, excuse me, and are prepared to quickly adjust our business to the changing demand trends if they occur.
"In the meantime, we'll continue to look for opportunities to drive organic growth in our core businesses select key capital investments in our properties, and through our MGM rewards program."