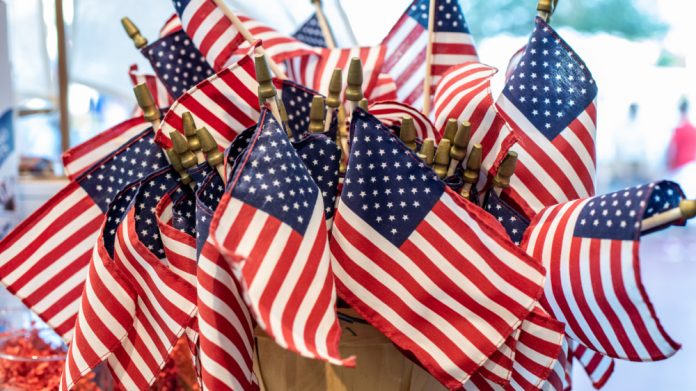 Driven by a nationwide igaming monthly revenue record through October, the American Gaming Association has reiterated that 2022 is firmly on-track to surpass 2021 as the highest-grossing commercial gaming year ever.
According to the Commercial Gaming Revenue Tracker, the US industry maintained momentum by marking 20 consecutive months of growth through October with $5.29bn, up 10.5 per cent year-on-year. 
This was also the industry's second highest grossing month on record, only eclipsed by March 2022 ($5.35bn), with the first ten months of the year 14.7 per cent ahead YoY after coming in at $49.85bn.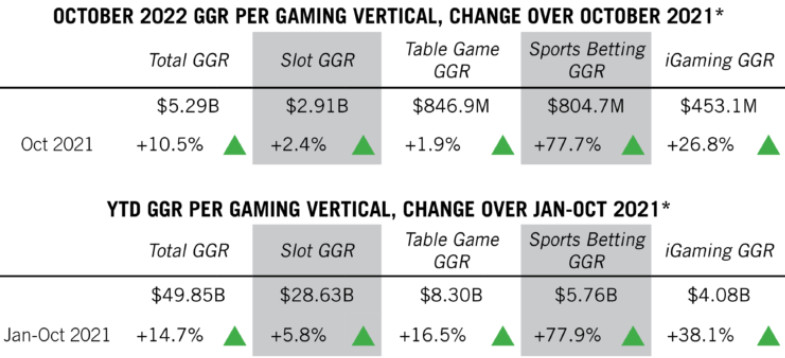 Online casino operations across Connecticut, Delaware, Michigan, New Jersey, Pennsylvania and West Virginia generated a combined monthly revenue record of $453.1m, which represents an increase of 26.8 per cent versus the same period one year earlier. For the year-to-date, igaming revenue stands at $4.08bn, up 38.1 per cent YoY.
As gaming revenue grew across all verticals through the month, a packed sports calendar drove the highest level of activity since the turn of the year.
Across 27 jurisdictions Americans wagered $9.07bn on sports, generating $804.7m in revenue. YTD sports betting revenue is 77.9 per cent ahead of 2021 after closing October at $5.76bn.
Elsewhere, revenue from land-based casino slot machines and table games combined to reach $4.03bn in October, an increase of 1.5 per cent over the same period last year.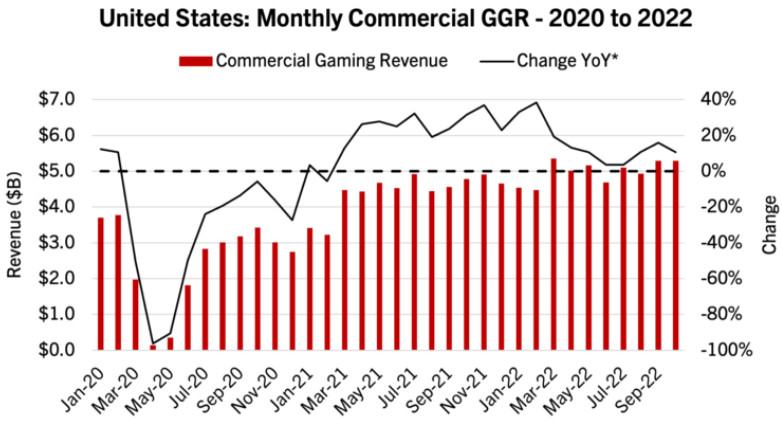 Slots generated revenue of $2.91bn, up 2.4 per cent, while table games increased 1.9 per cent to come in at $846.9m. 
On a YTD basis, casino slot machines and table games have grossed $39.97bn, 7.4 per cent ahead of the same ten-month period in 2021. At the state level, 21 of 25 commercial gaming states with slot and table gaming one year ago saw combined revenue from these verticals grow through October.
At the individual market level, 26 of 33 commercial gaming jurisdictions that were operational one year earlier reported revenue growth compared to October 2021.
Monthly gaming win contracted or remained flat in Delaware (-3.7 per cent), Maine (-2.8 per cent), Missouri (-4.7 per cent), New Jersey (-0.7 per cent), Ohio (-0.3 per cent) and Oklahoma (-0.4 per cent).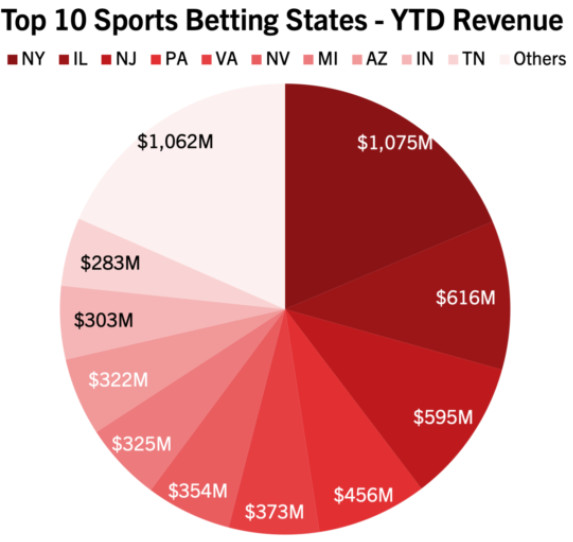 Through the first ten months of the year, three jurisdictions remain behind their gaming revenue pace compared to the same period in 2021.
These are the District of Columbia (-9.2 per cent), Mississippi (-3.6 per cent) and South Dakota (-0.6 per cent). The AGA noted that the former declined due to swings in hold percentage, while the others reflect tougher than average comparisons due to COVID-restrictions easing earlier.