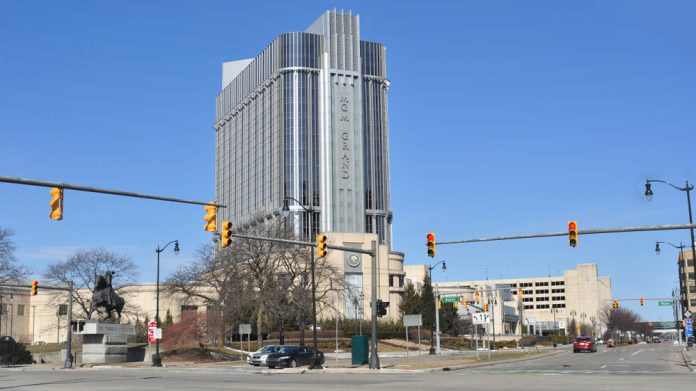 Detroit casinos have started 2023 with a year-on-year revenue uptick, as MGM Resorts maintained its place at the top of the tree through January.
The region's three land-based gaming establishments reported revenue of $103.5m through the month, which represents a 2.57 per cent increase from $100.9m one year earlier.
Breaking this figure down, table games and slots generated $103.4m, up 4.47 per cent year-on-year from $98.97m, however, this represents a decline of 4.5 per cent compared with December's result of $108.3m. Retail sports betting slumped to $111,023 (2021: $1.93m).
In keeping with recent trends, it is MGM Grand Detroit that came out on top with a 3.2 per cent revenue rise to $50.2m (2021: $48.65m), for a 48 per cent market share.
MotorCity Casino was next in line via a 1.3 per cent YoY increase to $30.3m (2021: $29.87m) for a 30 per cent slice, ahead of Hollywood Casino at Greektown's $22.9m, which represented an 11.9 per cent rise from $20.45m. This secured the venue a 22 per cent market share.
During January, the three Detroit casinos paid $8.4m in gaming taxes to the state of Michigan, compared with $8m for the same month last year. The trio also submitted $16.3m in wagering taxes and development agreement payments to the city of Detroit.
Retail sports betting qualified adjusted gross receipts dropped 94.3 per cent YoY and 93.2 per cent compared with one month earlier after closing at $149,379, down from $1.8m and $1.5m, respectively.
MotorCity's QAGR through the month came in at $236,503 (2021: $$521,493), with MGM reaching -$62,725 (2021: $481,785) and Hollywood Casino closing the month with -$62,755 (2021: $929,796).
State taxes from the Detroit casinos was $8,940 compared with $73,070 one year earlier, with $10,926 also submitted in wagering taxes.
During December, fantasy contest operators reported total adjusted revenues of $1.6m (2021: $772,465) and paid taxes of $133,324 (2021: $64,887).
For the past year, revenue closed at $16.8m (2021: $16.2m), with $1.4m in taxes remaining consistent.