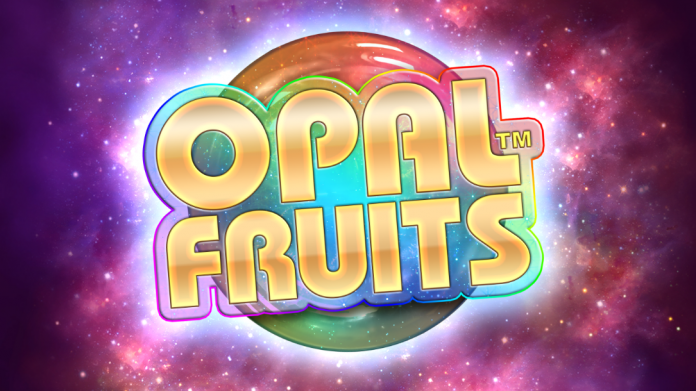 The highly-anticipated next slot from Big Time Gaming will be Opal Fruits, which also sees the developer introduce an exciting new mechanic.
THE next release from ground-breaking slots developer Big Time Gaming will be Opal Fruits, channelling a distinct 1980s' retro feel and unveiling Triple Reaction, a devastatingly simple but effective new mechanic.
"This game is a lot of fun," explains Big Time CEO Nik Robinson. "It's a magnificent
performance in pixels combined with face-melting digital eye candy! You just want to dive in and have a play.
"With Opal Fruits, we wanted to build a chart-topping game with inherent longevity. It's a 10p spin game so you can put in £10 and play it for a few hours, potentially. You might go up or down £5 or £10 – or you might win £3,000," he says.
"Opal Fruits is all about high turnover with low stakes."
"In terms of bonusing and on-boarding, as a tool for giving away free spins, one game – that needs no introduction – has had that mantle for a long time. It's 'the giveaway game', the entry point for on-boarding.
"We wanted a bonusing game that's 10p a go and is light on the load for casinos that want to give bonus spins away. Opal Fruits is all about high turnover with low stakes."
Opal Fruits features an unlimited multiplier with a brand new way of re-triggering. If a player gets lots of reactions, the multipliers can go through the roof, a very different, much more intensified version of the first-to-market unlimited free-spins system seen in Big Time's Bonanza.
"Rather than 'GOLD' you now have to spell 'FREE'," says Robinson, "which sends you hurtling into the stars. We've seen a few monster wins in testing and can't wait to see the full potential unleashed when it goes out on the SG network next month. The free spins during testing have paid over 36,000-times [the stake] and we expect network volume to sustain multiple wins at this level over the coming months and years.
"We're also delighted to announce that Kim Hultman – well known as leading slots streamer LetsGiveItASpin – will be launching it with the first real spins at the end of next month, via CasinoGrounds.com."
Outside of the game development team, CasinoBeats was the first to play Opal Fruits. Robinson is spot-on about the visuals, which present a rich tapestry of immersive gameplay. It has the depth of field of a space-set game and the immediacy of animations on a par with those of a AAA console game.
It's very colourful and has a great soundtrack, which the CEO pitches as being "somewhere
between Daft Punk and a Commodore 64". For CasinoBeats, the background music in the base game is also reminiscent of La Roux's 2009 hit Bulletproof, itself an aural homage to the Atari age.
And, for Robinson, the audio motifs of 80s' arcade and console gaming are never far away.
"We're using original samples from Williams Electronics' Robotron and Defender SFX," he says. "One example is the use of the 'extra life' sound in the classic, 80s coin-op Defender, used at poignant moments in the free spins.
"Scientific Games owns Williams (WMS) and agreed to the use of the audio samples as we're publishing the game with them for an exclusive period," he explains. "These sounds punctuate the game at critical moments and blend with the pure EDM soundtrack, where for the first time, we take the beat of the music and incorporate it into the gameplay. When you put it into autoplay, it plays different loops in succession and acts like a virtual DJ."
There is one other notable feature – the new mechanic, trademarked as Triple Reaction. And it plays like another little drop of slots perfection from the Big Time team.
Robinson explains: "In Opal Fruits, there are two extra reels that spin horizontally – so there are spins in three different directions. The top reel sits across the four central reels but fills left-to-right; while beneath the main reel set is another extra reel, this one filling right to left. It keeps the solid density of the reel set.
"We wanted to decouple the MegaWays complexity with a game that is just as much fun but simpler"
"It feels like its big brother Bonanza on steroids – but its not MegaWays," he continues,
referencing respectively the second most-played game in Europe and the hugely popular Big Time slot mechanic everyone is talking about.
"We wanted to decouple the MegaWays complexity with a game that is just as much fun but is simpler. For us, in essence it's the next Bonanza."
Robinson is right about the density of the reel set. It is visually very strong. The colours and animations are exquisite, not least the way the multiplier climbs and animates in steps around the reels as the music builds. If Bonanza is the dance floor, then this is the chill-out lounge and players that may have found MegaWays over-complicated will find their feet straight away with Triple Reaction.
Those in the UK old enough to remember the chewy, irresistible Opal Fruits sweets of their
youth would have shared in a collective disappointment when the brand was renamed as Starburst in the late 90s.
Two decades later, the online gaming sector will welcome Opal Fruits back with open arms.