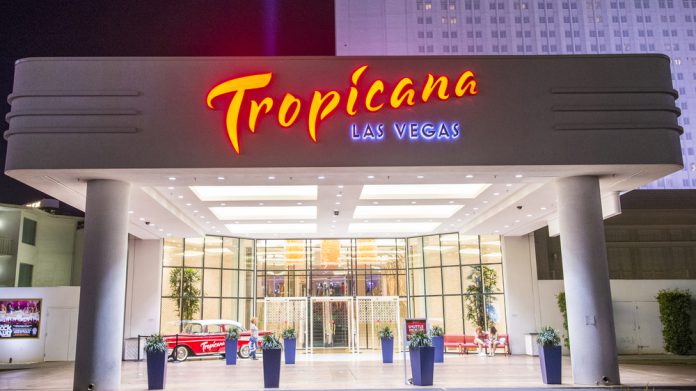 Gaming and Leisure Properties has secured the acquisition of the real estate assets of Tropicana Las Vegas Casino Hotel Resort from Penn National Gaming for $307.5m in rent credits.
The non-cash rent payment agreement is to be applied to existing lease agreements in May, June, July, August, October and a portion of November 2020, with a further potential sale coming in the short term.
PNG, which has entered a deal which is to see the payment of nominal annual rent, is to continue operating Tropicana for two years or until the entity is sold, whichever comes first.
In accordance with the terms of the transaction the real estate investment trust, a PNG real-estate spin-off, is to conduct a sale process with regards to the property, including the casino and hotel business.  
If a definitive agreement for the sale is entered into during the first year of the sale process PNG will receive 75 per cent of the net proceeds above $307.5m, plus certain taxes, expenses and costs.  
Should a deal be reached during the second year of the sale process the casino operator will receive 50 per cent of the proceeds, subject to the terms and conditions in the Tropicana purchase agreement. GLPI will receive all proceeds from any sale occurring after the initial two years.
Furthermore, GLPI has also provided an update to the collection of April 2020 rents for its portfolio of the real estate for 44 gaming and related facilities.
While all of the company's tenants' properties were closed in mid-March as a result of COVID-19 related precautions, GLPI collected 98.6 per cent of contractual April rent, including amounts paid by Penn National.
Peter Carlino, GLPI's chairman and CEO, commented: "GLPI believes its collaborative and mutually beneficial outcome with Penn National provides us and our investor base greater visibility and predictability for rent receipts over the remainder of 2020.  
"We are also grateful to our credit facility lenders for their support in facilitating the transaction with Penn National in a manner that acknowledges the unforeseen circumstances and that represents a unified spirit of cooperation to overcome the challenges presented by COVID-19."