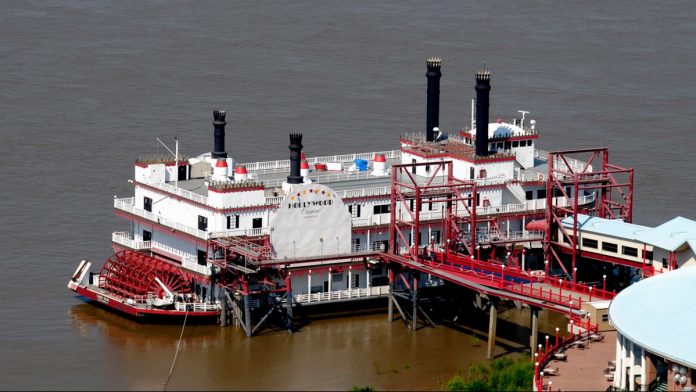 Gaming and Leisure Properties has unveiled plans to move its Hollywood Casino Baton Rouge facility from its current dockside location on the Mississippi River to a to-be-constructed venue.
Gaining approval from the Louisiana Gaming and Control Board to move its gaming operations, the real-estate investment trust anticipates in the region of $500m of positive economic impact to the region in its first six years of operation.
The firm expects completion on the $21m-$25m landside project to be in early 2022, with the project also set to bring 166 construction jobs to the area with total labour spend of approximately $10m stipulated.
The all-new Hollywood Casino Baton Rouge promises players a variety of exciting new gaming and entertainment experiences, including, indoor and outdoor gaming including full service and amenities, sports bar and restaurant, meeting space and a Shaquille O'Neal 'Big Chicken' eatery. 
Jeannie Magdefrau, general manager of Hollywood Casino Baton Rouge, explained, "Today is an exciting day for Hollywood Casino Baton Rouge and the entire Baton Rouge community. Our move landside is expected to contribute approximately $500m of positive economic impact to the region in its first six years of operation and will provide our current and new guests with a state-of-the art gaming and entertainment destination in the city. 
"Further, by moving landside we can sell and/or move the boat to free up dock space so that we can increase visitation from what is an ever-expanding Mississippi river cruise business. We thank the Louisiana Gaming and Control Board for their support and look forward to getting to work on our new landside casino facility in the coming months."
The Louisiana venue is one of two operated by GLPI, alongside Maryland's Hollywood Casino Perryville, with the firm boasting a wider portfolio of 44 gaming and related facilities, which are geographically diversified across 16 states. Tenants include Penn National Gaming, Casino Queen, Eldorado Resorts and Boyd Gaming Corporation.