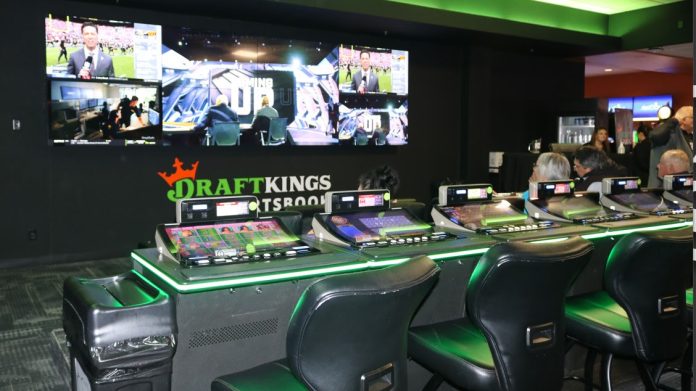 Michigan's Bay Mills Resort & Casino has detailed a "gratifying" grand opening of a permanent DraftKings sportsbook, which comprises expanded amenities and entertainment options.
This saw leaders from the property itself, the Sault Ste Marie Chamber of Commerce and DraftKings attend an official ribbon cutting ceremony this past Sunday (November 6).
Following this, guests in attendance were invited to watch the Detroit Lions versus Green Bay Packers game live from the new space, which features a wall of eight large high-definition televisions.
"We're excited to finally launch the retail DraftKings sportsbook in our casino," said Richard LeBlanc, General Manager of Bay Mills Resort and Casino. 
"It has been equally gratifying to demonstrate our DraftKings partnership to our guests and community, which will positively impact our region for years to come."
The retail DraftKings sportsbook includes in-game sports betting and other wagering options. The space also offers customers real-time score updates, three odds boards and four kiosks to place bets. An additional two kiosks are also located on the main casino floor.
"We are thrilled to expand our incredible partnership with the Bay Mills Indian Community and to create an amenity that all guests can enjoy at one of the premier entertainment destinations in Northern Michigan," said Michael Kibort, Senior Director of Retail Sportsbook Operations at DraftKings. 
"Our new sportsbook at Bay Mills Resort & Casino will offer sports fans an unmatched high-energy, year-round immersive sports betting experience."
Last week, DraftKings raised its revenue guidance for the full-year after the group reflected on a third quarter that saw revenue increase and losses improve year-on-year.
Following the "very strong" three month period, Jason Robins, DraftKings' co-founder, Chief Executive Officer and Chair, reiterated confidence in achieving positive AEBITDA by Q4 2023 "based on the visibility we have into expected state launches".
For the quarter ending September 30, 2022, revenue surpassed internal expectations in rising 136 per cent to $502m (2021: $213m) year-on-year.
The B2C segment demonstrated a similar performance in closing Q3 at $493m, up 161 per cent, which DraftKings aligned to an array of primary factors.