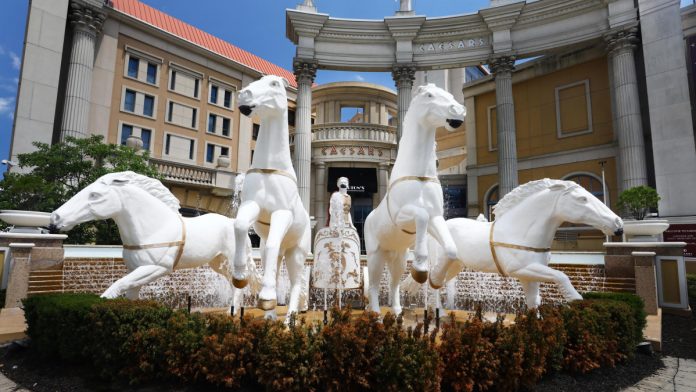 Caesars Entertainment has voiced confidence in the year ahead after the casino and entertainment operator tracked increases across all core reporting segments through 2022's fourth quarter and full-year.
Through the past year's final three period time frame, Caesars revenue increased 8.87 per cent to $2.82bn (2021: $2.59bn), driven by group-wide increases in casino, to $1.55bn (2021: $1.51bn); food and beverage, to $424m (2021: $343m) and hotel, to $511m (2021: $429m).
Breaking this headline figure down further, Las Vegas revenue increased 10.96 per cent to $1.15bn (2021: $1.04bn), while regional slightly dropped to $1.35bn (2021: $1.36bn) and digital more than doubled to $237m (2021: $116m).
Elsewhere, net loss close to $148 from the past year's $434m, while adjusted EBITDA surged 64.7 per cent to close the year at $957m (2021: $581m).
"Our fourth quarter delivered another set of strong operating results as both our Las Vegas and regional segments each set a new fourth quarter record for adjusted EBITDA," commented Tom Reeg, Chief Executive Officer of Caesars. 
"Additionally, our Las Vegas segment set a new full year record for adjusted EBITDA. Caesars Sportsbook delivered significantly improved operating results during the fourth quarter which sets the foundation for a strong 2023.
"Consumer demand remains strong in all of our verticals and we are optimistic for the year ahead."
For the full-year, revenue fractionally rose to $10.82bn (2021: $10.81bn), net loss swelled to $899m from the $512m recorded one year earlier, and EBITDA rose 8.46 per cent to $3.24bn (2021: $2.99bn).
"We permanently reduced total debt by over $1.2bn during 2022, resulting in total leverage as calculated under our bank credit facility of 4.4x as of December 31, 2022," stated Bret Yunker, Chief Financial Officer.
"In addition, we successfully extended $7.5bn of debt facilities maturing in 2024 and 2025 through a $3bn bank syndication completed in October 2022 and $4.5bn of debt capital markets issuance which closed in February 2023."