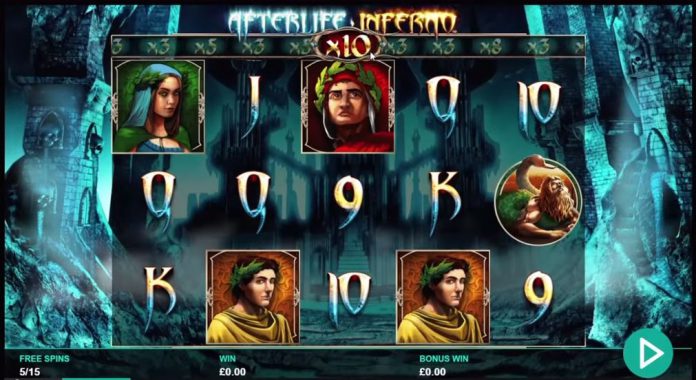 CasinoBeats talks to Ian Sims, founder and MD of Rightlander and the man behind eye-catching slot title Afterlife: Inferno.
Ian Sims' broad experience in affiliate marketing and online gaming generally, as well as his times as a player of slots, offered him a unique starting position when creating the Afterlife: Inferno slot in tandem with Leander Games. CB wanted to find out more.
How does Afterlife: Inferno differ from standard slots fare?
IS: "Afterlife: Inferno (I initially wanted to call it Dante's Inferno but EA Games have a trademark) is very much the game I wanted to make, free of the trappings of having to develop a game for mass market profit.
"I am not your usual player: I like high-variance games and am quite happy to put up with lots of dead spins rather than keep winning micro-amounts, knowing that the potential for a very big hit is always there.
"Not just 'there' in fact, but realistically there! Within an hour of it's release, we actually had a player post a win of over 8,000-times [the stake] on Casinomeister, which was exactly what I was hoping for.
"When I play, I like to have a fall-back game that I can turn to when things are not going well that gives me a chance of recouping my losses or maybe even gaining a healthy profit.
"I accept that the chances are slim, but I want a game that doesn't just allude to 2,000-, 3,000- or 5,000-times payouts – it produces them from time to time. There aren't many games like that out there so that is where Afterlife: Inferno is pitched, using twists on proven ideas such as increasing multipliers, wild reels and sticky wilds.
"Incidentally, I learned a lot from developing my first game and for any aspiring slot game designers out there, I wrote up the experience in detail, from the moment of its conception in 2016 through to its eventual release in 2018."
Aside from your own experience and insight, how important is it to listen to the player through Twitch, YouTube and other review platforms?
"These channels have undoubtedly become a source for finding new games and while platforms continue to allow gambling streams then they have a place. I occasionally tune in myself to channels like Dazza G and The Bandit, to see what new games they are showing. I do tend to skim the videos as I use them mainly as a source of understanding whether I would like the game rather than being interested in the outcome of a session.
"I think the streamers are on dangerous ground with the new compliance rules."
"That said, I think the streamers are on dangerous ground with the new compliance rules. I can see potential issues with the games they choose to play, the wins they choose to show and more importantly, what they say while they are playing. At the moment this is near-impossible to monitor and the rules are quite strict so it's not impossible one of them either says something that is morally or ethically irresponsible or they show a sequence of wins which are deemed to 'induce' play.
"If that happens, the casinos will not want to affiliate with them and will there still be an incentive to stream? It's only speculation but in the meantime, the good ones provide valuable service in my opinion.
"There is probably room in the market for a central reviews system that feeds the casinos a la Trip Advisor on a smaller scale but slots are more subjective than places, so it would need to be tied into an 'also likes' system to be effective in my opinion."
Finally, are you working on more games?
"Yes, I have been approached since the launch of Afterlife: inferno but I can't really reveal anything right now, sorry!"