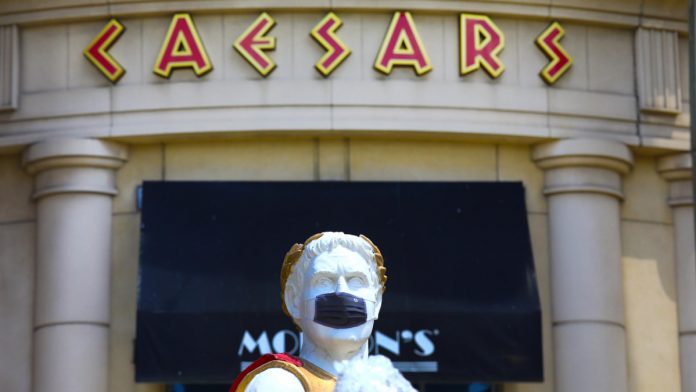 Caesars Entertainment has become the latest operator to stress encouragement at emerging trends, after second quarter closures ravaged the group's financial performance with an inevitable series of declines the result.
The comments come in the firm's quarterly report, documenting the performance of legacy Eldorado properties after the two organisations completed an ongoing merger to become the US' largest casino and entertainment firm last month.
Tom Reeg, CEO of Caesars Entertainment, commented, "Our second quarter operating trends were negatively impacted as the majority of our properties remained closed during April and May 2020. Our properties began to reopen in late May and early June. 
"All of the combined new Caesars Entertainment regional properties are now reopened and we are encouraged by operating trends."
Revenue for the second quarter dropped 78.2 per cent from $637.1m (2019: $126.5m), with the organisation also reporting that 51 of its properties have resumed operations since mid-May.
Net loss plunged to $100m for the quarter, contrasted with a profit of $18.9m a year earlier, with adjusted EBITDA also falling 106.3 per cent from $178.6m to a loss of $10.3m.
For the first six month of the year to the period ending June 30, revenue came in at $599.5m, down 48.1 per cent from $1.27bn, net loss reached $275.6m from a 2019's $57.1m profit and adjusted EBITDA declined 71 per cent from $345.3m to $92.1.
Reeg continued: "Now that the merger has closed, our operating teams are fully engaged with integrating the two companies and executing on the synergy plans. Our number one priority remains the safety and security of our team members and guests. 
"Our COVID-19 operating plans for reopened properties are designed to ensure a safe and exciting environment for our guests. We remain optimistic regarding an eventual recovery of travel and tourism in the US and especially Las Vegas."
The $17.3bn cash and stock transaction had seen Eldorado previously praise the increased scale and geographic diversification to be felt as a result of the combination, with approximately $500m of synergies expected to be felt in the first year.
In addition to its global casino property portfolio, including a roster of eight casino hotel properties on the Las Vegas Strip, Caesars owns or operates casinos in 16 states across the US including Nevada, Colorado, Missouri, Iowa, Florida, Mississippi, Louisiana, Ohio, Illinois, Indiana, New Jersey, Pennsylvania, Arizona, North Carolina, California and Maryland.
As of the end of the reporting period, legacy Eldorado Resorts had $2.7bn of debt outstanding with total cash and cash equivalents at $950.5m.
"We have a strong liquidity position which will allow us to weather short term weakness due to COVID-19. For new Caesars Entertainment, Inc. we successfully executed an $8bn debt raise on June 19, 2020, which further enhances our pro forma liquidity," said Bret Yunker, chief financial officer of Caesars.