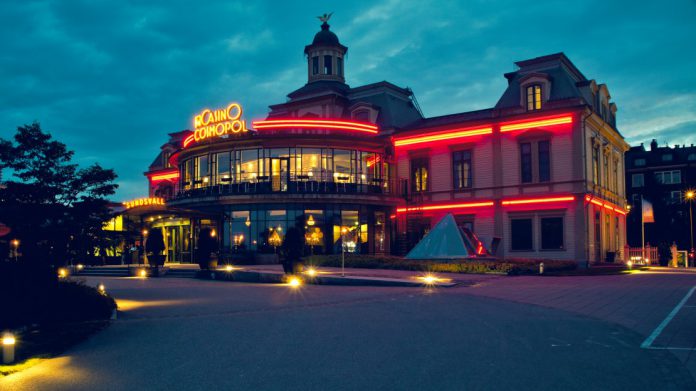 As US casino operators continue to implement further COVID-19 mitigation efforts, Svenska Spel's Casino Cosmopol subsidiary announces the closures of its establishments in Stockholm, Gothenburg, Malmö and Sundsvall.
The move comes as Sweden implements a ban on mass gatherings of more than 50 people, as sanctioned by the country's Government, with immediate effect.
"We follow government recommendations carefully and saw it as part of our responsibility to keep the community going by keeping our casinos open," stated Patrik Hofbauer, president and CEO of Svenska Spel. 
"We then followed the restriction of a maximum of 500 people and other restrictions that currently apply to restaurants. With the new restrictions, it is now necessary to temporarily close all of our casinos. We hope to welcome our guests back as soon as the situation changes."
After the American Gaming Association praised the United States senate last week for the passage of its Cares Act, which it hopes will bring meaningful relief for employees, employers and tribal governments during the current unprecedented public health crisis, the association details that President Trump has subsequently added his signature.
The $2trn bipartisan relief package, the largest in US history, delivers essential support that the AGA has fought to secure for gaming employees, communities and businesses.
Bill Miller, president and CEO of the AGA, commended congress: "This emergency economic relief arrives at a critical moment. The unprecedented COVID-19 pandemic has effectively shut down our industry. COVID-19 has sent shock waves through the economy – putting at risk the millions of American workers and small businesses gaming supports."
Elsewhere, Penn National Gaming has announced that due to announced extensions of temporary closure orders across a number of states, with it unclear whether others will follow suit, unpaid furloughs are to be implemented affecting approximately 26,000 team members companywide from April 1.
In addition, the company has also established a special COVID-19 Emergency Relief Fund under the Penn National Gaming Foundation to provide assistance to team members and local relief organisations in our communities. Thus far the fund has already raised over $1.2m.
"This decision was extremely difficult to make for all of us at Penn," Jay Snowden, president and CEO of Penn National, wrote in a letter to team members. "Penn National is a family, and we deeply regret the hardship this will place on you and your loved ones. 
"We are extremely motivated and focused on re-opening our properties as soon as it is safe and legal to do so. To try to help ease some of the burden, we're maintaining your medical benefits through June 30, for those team members who are currently enrolled in our health plans."
MGM Resorts International has also provided an update on the impact of the COVID-19 outbreak on its operations, revealing a $3.9bn warchest to support liquidity during property closures.
In a statement, MGM said its "top priority" remains the health and safety of employees, guests and the communities in which it operates, and also provided an overview of the steps it is taking in order to minimize the financial impact.
Furthermore, the company has also taken the opportunity to publish its results for the first two months of 2020, revealing a consolidated net income of approximately $1.3bn, a significant increase when compared to 2019's $27m. 
"At MGM Resorts, we are committed to doing our part to mitigate the spread of COVID-19, including the closure of our properties across the United States," said Bill Hornbuckle, acting CEO and president of MGM Resorts. 
"While this will undoubtedly have a significant negative effect on our business in the near term, we are well-positioned to emerge from the current crisis in light of our strong liquidity position and valuable asset portfolio. 
"With the continued execution of the MGM 2020 plan, as well as the implementation of aggressive cost savings initiatives, we believe the company will be able to manage its expenses while navigating this unprecedented event. We are currently making very difficult decisions but believe these will be in the best interest of the company long term."
A number of operators around the United States have issued statements regarding the extension of closures due to the rapid spread of coronavirus, with California's Borona Casino and Resort hoping to reopen on Monday 20 April.
The Table Mountain Rancheria Tribal Council and casino board of directors have also jointly agreed to extend the temporary closure of its tribal casino, originally effective from March 16-31, 2020, to a tentative date of April 12, 2020.  
This temporary closure serves as a precautionary measure to COVID-19 and the CDC recommendations, and is delivered in collaboration with Governor Gavin Newsom and local government.
Finally, Pennsylvania's Parx Casino also issued a statement to guests on its own extension which read: "Dear guest, while we all work to prevent the spread of COVID–19, the safety, comfort and well–being of our guests remains our top priority at Parx Casino. 
"We wanted to provide you an update on the closing of Parx Casino in response to governmental orders relating to COVID–19. We have received no indication from governmental authorities when we will be permitted to reopen. However, it is clear that we will not be able to do so on March 29th. We will continue to monitor the situation and will inform you once we know a re–opening date."