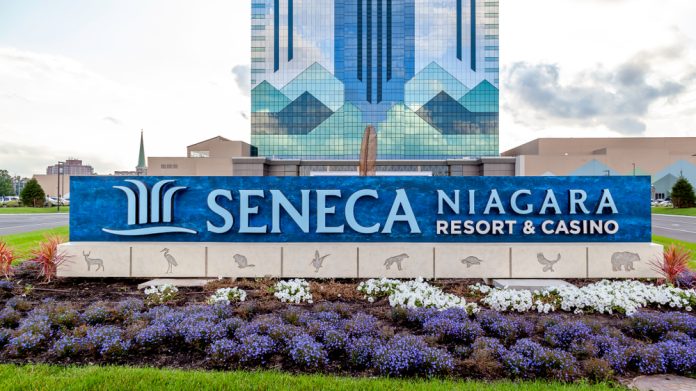 The Mohegan Tribal Gaming Authority has revealed its net revenues in overall operating has witnessed a slight increase with income from operations spiking nearly 100 per cent. 
Publishing its first quarter fiscal 2023 operating results, the Authority stated that its net revenues experienced a small growth of 1.2 per cent, $406.6m, when compared to the same period the year prior (2021: $402m).
Mohegan noted that the growth in net revenues compared with the prior-year period was primarily driven by a full period of operations and a return to relatively normal operating conditions at the Niagara Resorts, combined with the continued growth in its online
casino gaming and sports wagering operations in Connecticut.
Overall income from operations at its properties spiked by 99.5 per cent in Q1, ended December 31, 2022, totalling $70.2m (2021: $35.2m), an increase of $35.03m. The firm's adjusted EBITDA also grew by 3.8 per cent to $101.05m (2021: $97.4m).
On the latter, Raymond Pineault, Chief Executive Officer of Mohegan, stated: "Our consolidated adjusted EBITDA of $101.1m continues our trend of strong performance,"
"Our diversification strategy and continued focus on profitability have enabled Mohegan to offset some of the inflationary and labour pressures and achieve these strong results."
Echoing the thoughts of Pineault, Carol Anderson, Chief Financial Officer of Mohegan, also noted: "Our adjusted EBITDA margin of 24.9 per cent was 605 basis points favourable compared with our pre-COVID-19 first quarter of fiscal 2020 and 62 basis points favourable compared with the prior-year period."
Starting with the aforementioned Niagara Resorts, net revenues at the venue increased by $11.2m to $74m, a 17.8 per cent rise. These, according to Mohegan, reflected the increased volumes related to the opening of its OLG Stage venue, as well as the property operating without any COVID-19 related restrictions.
Furthermore, adjusted EBITDA increased by 8.7 per cent, ($1m) with a margin of 16.1 per cent.
However, its other two properties – Mohegan Sun and Mohegan Pennsylvania – witnessed drops across the board, with net revenue declining by $12.2m and $4.4m, respectively.
Income from operations at both properties also dropped with Mohegan Sun reporting a 16.8 per cent drop, $10.4m, to $59.8m (2021: $64.2m) and Mohegan Pennsylvania declining by 19.9 per cent, $2.3m, to $9.2m (2021: $11.5m).
Following a similar vein, adjusted EBITDA also experienced double digit percentage drops, with Mohegan Sun reporting a 13.3 per cent loss, $10.4m, to $67.8m (2021: $78.2) and its Pennsylvania property totalling a 16.7 per cent decline, $2.4m, to $12.1m (2021: $14.6m)
The Authority noted that the decline in Mohegan Sun's figures was a reflection of lower volumes against the year-prior due to its 25th anniversary celebrations. It also pinpointed "unfavourable" slot and table hold and weather as a key contributor.