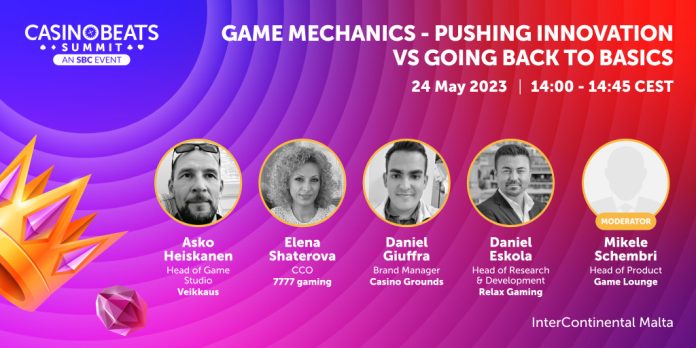 Ahead of the highly anticipated CasinoBeats Summit, CasinoBeats had the pleasure of interviewing Elena Shaterova, Chief Commercial Officer at 7777 Gaming, who is also one of the esteemed speakers at the panel session on "Game Mechanics – pushing innovation vs Going Back to Basics" taking place on May 24 at the InterContinental Hotel in Malta from 14:00 – 14:45. 
Elena brings over 15 years of international sales and business development experience in the gambling industry to the table, and as the CCO at 7777 Gaming, her main focus is on positioning and expanding the company's online casino products and solutions in regulated markets worldwide.
Drawing from her wealth of experience in the gaming field, Elena shares her insights on why the industry continues to emphasise innovation despite the traditional success of fruit slots, the challenges of incorporating innovative game mechanics, and potential examples of game mechanics from the video gaming world that could be adapted to online casinos.
CasinoBeats: Why does the industry keep pushing the innovation angle, if traditionally it's the basic fruit slots that are best performers?
Elena Shaterova: I will quote a famous music producer's answer to the question, 'How do you make a hit?' – 'Never completely comply with the audience, because they only know what they've seen so far. They can't tell you what they want, because they haven't got it yet. It's up to us to give players the next hits they will fall in love with.'
CB: What are the main challenges when it comes to incorporating innovative game mechanics?
ES: There are two main challenges. The first one is whether the new concept is exceptional, understandable, and exciting in terms of the mathematical model. 
The second main challenge is that most casino managers are somehow conservative and usually don't give these games enough credit, time, and visibility to make them valuable. In that sense, we are proud that our innovative titles are preferred by the players on the sites that trust and promote us.
CB: We're oftentimes talking about converging worlds – can you give examples of successful game mechanics from the video gaming world that could be adapted to the online casino industry?
ES: There are countless examples of arcade, pinball, or shooter concepts that unfortunately didn't catch on in the gambling industry. The reason, in my opinion, is simple. These games are known to the public as skill games, which are very underrepresented in the gaming industry due to many reasons, such as certifications, payout, and so on.
We believe these particular concepts have great potential, and we have a solution that will appeal to the players, which will hopefully be presented soon.
CB: What, in your opinion, has been a breakthrough moment in iGaming when it comes to game mechanics, and what do you foresee in the future?
ES: Great question. In my opinion, innovation and novelty thrive best in a competitive environment. The online sector took its leading place, especially during COVID, and continued to rapidly expand. With the ever-growing businesses and saturated markets, operators started looking for new niche products and customers, as well as exciting content that diversifies the players' experience.
I foresee that this trend will continue in the next few years, as the gaming experience becomes much more personalised and gamified.
CB: What do you think makes a casino game successful?
ES: It's a complex formula that makes everything seem clear and exciting. If I should outline just one thing that combines all, this should be the rhythm of the game. By rhythm, I mean everything – from the choice of the theme combined with the right mechanics, aligned with corresponding math, as well as the payouts, which are celebrated with exceptional animations and highlighted sounds. All this in one could make a blockbuster game.
CB: Is there a panel session on the CasinoBeats Summit conference agenda that caught your attention?
ES: It's interesting to hear the panellists' points of view about the topic – 'Game mathematics & player psychology' because, in this ever-changing world, we need to examine the player's expectations as well as predefine them.
---
In addition to informative content, the summit will feature a trade show with new game releases and product launches, as well as opportunities to network with industry professionals at some of the most iconic venues in Malta. You can purchase your CasinoBeats Summit ticket by visiting the website. For groups of three or more people, a special discount is available, saving you €150 on the regular ticket price (per ticket).