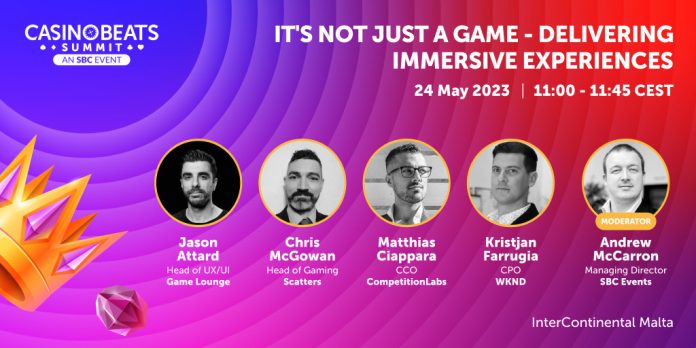 With the ever-increasing choices available for players, keeping them engaged has become a challenge.

We sat down with the speakers of the highly anticipated "It's not just a game – delivering immersive experiences" panel session, taking place on May 24 from 11:00 – 11:45 during the fifth edition of the CasinoBeats Summit, to give you a sneak peek of their perspectives on how to create unforgettable experiences that captivate players in today's competitive landscape.
During their panel discussion, Jason Attard (Head of UX/UI, Game Lounge), Chris McGowan (Head of Gaming, Scatters), and Matthias Ciappara (CCO at CompetitionLabs) will delve into the strategies and techniques of leveraging UX and game design to provide unparalleled interactivity for players.
CasinoBeats: In your experience, do dynamic game controls and interfaces result in statistically stronger games by enhancing the player experience?
Jason Attard: Yes, technically stronger games can be created when appropriate dynamic game controls are utilised, as they can increase user satisfaction, player engagement, and ultimately revenue.
Chris McGowan: Yes, dynamic game controls and interfaces do seem to result in stronger games. However, there can be a peacock effect where too much becomes counterproductive. The key is to find the right balance, which some providers seem to struggle with.
CB: Can you talk about the challenges you face in creating immersive experiences to keep the players engaged?
Matthias Ciappara: When creating immersive experiences and striving for a deeper emotional connection between the player and the product you're providing, there is no single magic bullet feature that can achieve this. Therefore, we need to combine various functionalities together to create the final experience. This is where challenges arise and can vary.

The primary challenge in our industry is often limited by different and legacy technology stacks, resulting in a lack of scalable infrastructure. Once the technical challenges are overcome, the next hurdle is to connect the different elements, product verticals, and profit margins, while aligning them with your audience and their playing patterns.
JA: One of the main challenges is developing an experience that works seamlessly across different devices, as players demand a consistent user experience across all platforms. Additionally, I must consider developing an experience that caters to users regardless of their background or skill level, which presents additional challenges.
CM: We do not create games; however, we do have UNIBO. The challenge lies in finding a balance that can work across multiple GEOs (geographical regions), while also avoiding features that can be exploited by third-party bonus tools (which many providers seem to overlook).
CB: How do you approach the goal of creating a more immersive experience for players? Where do you start?
MC: The first and most important aspect is always the 'why'. Why should a player care and emotionally connect to the product/experience that you are providing? This can depend on various elements, such as your target audience and demographic, as well as the current product and existing playing patterns on your products. By gaining an understanding of what your audience may find appealing, you can conduct further research and adjust your design efforts.
JA: It's crucial for me to master a range of techniques, including gamification, personalisation, and social components for the product, and fully understand the vision behind it in order to enhance player engagement and offer a more immersive experience.
CM: Like anything else, it should always start and end with data. However, ongoing testing is vital, and I cannot stress enough how important it is to have a highly creative team.
CB: How do you stay current with emerging technologies and trends in UX/Game design to continuously improve player experiences?
MC: Competitor and market analysis, both within and outside of our industry, is key. Trying out different mechanics and games, and focusing again on the 'why'. Why is this game more successful than the other? What are the different or new elements that were utilised, and what was the audience's reaction? A crucial part of this is not just looking at the exact implementation, but also understanding the reasoning behind it and why it was successful in the context of the product you are analysing.
JA: Networking, of course, with other industry professionals. I accomplish this through LinkedIn, conferences, events, and other industry meetings. I also read blogs and listen to podcasts. To stay updated with player preferences and behaviours, I regularly conduct user testing and research and gather competitive analyses within the industry.
CM: This is an ever-growing industry, and one needs to always be on their toes, whether it's conferences like this one (CasinoBeats Summit), print publications, legislations, networking, or staying in touch with different companies in the industry.
CB: Can you give an example of techniques that could increase player engagement and how to incorporate insights on player behaviour patterns into the design process to create a more immersive experience?
MC: Going outside of the core of the real money industry for a bit and looking at the successes in the mobile and social casino genre. This is a product in which players are specifically playing just for fun and entertainment, and are not able to gain any winnings from their gameplay.

The social casino market was worth $6.3 billion worldwide in 2022 and is mostly influenced by a few key players in this space, such as Zynga, Playtika, Moon Active, and Caesars among others. Looking deeper into these products, they heavily rely on multiple gamification features to create a more exciting and engaging experience.
JA: One may offer personalised recommendations for games, promotions, and other content by studying the market, player activity patterns, and preferences if they have access to the right data, which can boost player engagement and satisfaction.
CB: Is there a panel session on the CasinoBeats Summit conference agenda that caught your attention?

MC: 'Game Mathematics and Player Psychology' is a very interesting panel that discusses different playing patterns between lower and higher game volatility and speed, and how different games may affect different audiences more effectively based on a player's risk appetite.
JA: 'Know your player – what to do with all that data?'
CM: 'Game Mathematics & Player Psychology', 'Game Mechanics – Pushing Innovation vs Going Back to Basics', 'Rewards and Incentives – How Do You Incentivise a Player Responsibly?', 'Rootz Leading in Responsible Gambling', and 'Tracking the New Releases – Where Are We Now?'
---
In addition to informative content, the summit will feature a trade show with new game releases and product launches, as well as opportunities to network with industry professionals at a range of venues in Malta. You can purchase your CasinoBeats Summit ticket by visiting the website. For groups of three or more people, a special discount is available, saving you €150 on the regular ticket price (per ticket).