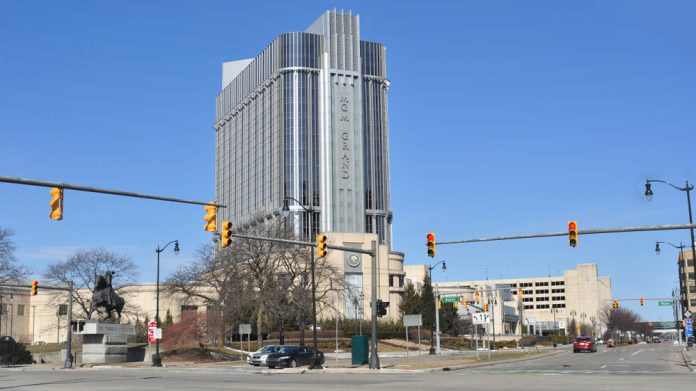 MGM Grand Detroit has maintained its leadership status in the Michigan gambling space after the region's three land-based gaming establishments reported $103.4m in monthly revenue during September.
Breaking this figure down, table games and slots revenue came in at $100.8m, which is down 5.7 per cent year on year and 3.5 per cent from the $104.48m reported one month earlier. Retail sports betting contributed $2.6m through the month.
Contrasted with the performance witnessed one year earlier MGM, which boasted a 48 per cent market share, saw revenue rise fractionally to $48.4m.
MotorCity Casino, with a 31 per cent share, saw revenue drop 14.2 per cent to $31.3m, while Hollywood Casino at Greektown, with a 21 per cent take, witnessed a 4.3 per cent revenue drop to $21.1m.
During September, the three casinos paid $8.2m in gaming taxes to the state, compared with $8.7m for the same period one year earlier. The trio also submitted $12.5m in wagering taxes and development agreement payments to the city of Detroit during the month.
Furthermore, a third quarter update was also reported by the Michigan Gaming Control Board, with retail venues' revenue down seven per cent.
On a property by property basis, MGM, MotorCity and Hollywood Casino all detailed declines of 2.9 per cent, 11.7 per cent and 8.8 per cent to $150m, $98.5m and $62.8m, respectively.
The three casinos paid $25.2m in gaming taxes to the state during the third quarter compared with the $27.1m received during 2021.
For the year-to-date through September 30, table games and slots revenue increased a slight 0.8 per cent from the same nine-month period last year.
Retail sports betting qualified adjusted gross receipts declined 24.9 per cent YoY to the aforementioned $2.6m (2021: $3.5m), but increased 56.3 per cent from August's $1.7m.
MGM came out on top with a little over $1m, followed by MotorCity's $822,534 and Hollywood Casino's $768,912, with that split $4m, $3.6m and $5.7m for the year-to-date.
The three Detroit casinos reported a total retail sports betting handle of $18.58m with gross receipts coming in at $2.63m for the three retail sportsbook locations.
Taxes paid to the state was $98,257 compared with $130,885 paid in September 2021, while $120,091 was submitted to Detroit in retail sports betting taxes during September.